2015 was a structure fire that kept being fanned by terrible movies. Jonah Hill came out with True Story, a movie where he kept his mouth slightly ajar like a scared house cat for ninety-minutes. Jurassic Park squandered the talents of Bryce Dallas Howard (the script required that she walk around in a Katherine Hepburn outfit while sighing). And that wasn't even the tip of the iceberg. Here is my top ten list of most horrifyingly lousy movies of 2015.
10. True Story
Jonah Hill gets so many closeups they must have broken at least ten cameras from accidentally ramming his head. Meanwhile, James Franco sweats and writes on college ruled paper. True Story is a movie about people holding pens. To cut costs, they could have filmed this entire thing in the stationary department of Target. My working title? Primal Fear: Ambien Edition. I-fell-asleep-twice-in-the-screening-emoticon.
09. Child 44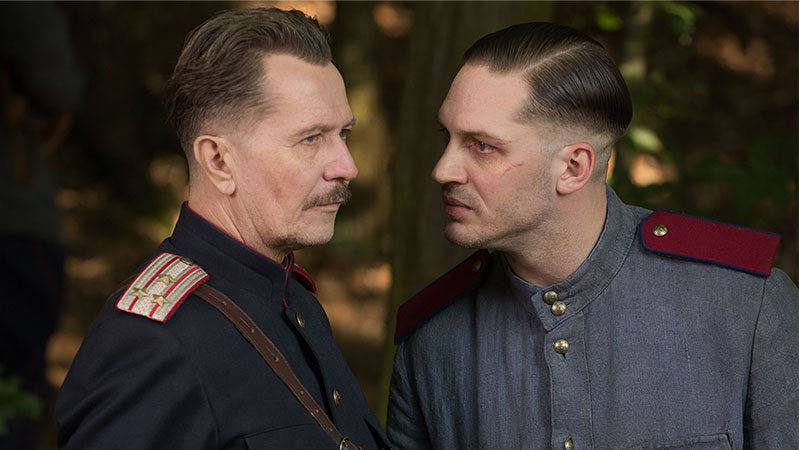 Tom Hardy struggles to perform a Russian accent for two hours. He goes from baritone drawl to Transylvanian lilt. Every now and then, out of habit, he sounds English. But don't worry – here's his version of an Austrian count! There's absolutely no reason this couldn't be a foreign language film. I imagine the director wandered into a costume store, gave a period appropriate uniform to Hardy, and told him to ad lib in front of an iPhone camera. Basically, Jack Black and Mos Def created more realistic films in Be Kind Rewind.
08. American Ultra

Jesse Eisenberg dresses like a band member of Blind Melon, and is supposed to be sympathetic. But that's not even the worst part. If you want to groan for ten minutes, listen to Topher Grace sternly say, "I'm the right man for the job!". Not to be outdone, John Leguizamo shows up in some kind of Kool Moe Dee outfit. Thanks for the worst ensemble of the year, pal.
07. Southpaw

A film where nobody blocks any punches. These guys have more WorldStar techniques than they have boxing fundamentals. Clearly this kind of macho flexing could only be written by saliva-n-shotgun provocateur Kurt Sutter. Forget ink, this dude writes in Red Bull and whiskey. Get lost. After a tremendous stream of great movies, we finally see a script that hits Jake Gyllenhaal back.
 06. Get Hard
Was Eugene Levy not available to play Will Ferrell's character? Solid to be in 2001 again.
 05. Unfinished Business
Vince Vaughn continues to work off of found money from the early 2000s. Valued actor Tom Wilkinson used to be in Michael Clayton. Now valued actor Tom Wilkinson is saying "titty" in a terrible buddy comedy, and it's everyone's fault. Blood is on all of our hands.
 04. By the Sea

Instagram filtered France dotted by catalog clothing. A self-important, navel gazing kaleidoscope of sycophantic ridiculousness. Gtfo.
03. Poltergeist

"Griffin, gosh!" Rosemarie DeWitt cares so little about this script that she's about to collapse like a Jenga tower every time she delivers a line of dialogue. The scares are all neutered, and the child actors are unable to look convincingly scared (look at this still!). The original succeeded because it was a lived-in world, complete with darkness below the fingernails of its protagonists as well as its ghosts. Here, the scariest thing is the way Sam Rockwell wont stop moving his head like a bobblehead doll.
02. Insidious: Chapter 3
More like Insidious: The CW Pilot. Is this a Ryan Murphy script that went through a car wash? This whole thing is wet pate. I imagine this screenplay is one page long, comic sans, and with the words "CHARACTER MOVES SLOWLY" written in size 56 font. If you want to watch someone walk around, aimlessly, follow me in the cheese aisle of a grocery store.
01. The Gift
Sorry to spoil the movie for you, but the filmmakers already did so during the screenwriting process. When the climax of a film revolves around the potential rape of a woman to settle the score between two men, you can pretty much call yourself the worst feature of the year. Rebecca Hall basically plays a prop that is used, cavalierly, during a feud between two men. She has no say in the end of the film, and we're supposed to be riveted by the vicious onslaught of machismo. I don't think so, guys, even if Joel Edgerton looks like retired Colorado Rockies slugger Todd Helton.